On March 7, 2022, Benjie became one of the first brands in the world specializing in children's shoes to be B Corp certified! We join the 4500 companies that are certified on the planet and the 63 in Switzerland!
This label, recognized worldwide and which has approved brands that have inspired us, attests to the intense work and orientations that we have carried out since the beginning of the brand: choice of materials, manufacturing conditions, traceability of Benjie, environmental footprint, well-being at work, social commitments... This certification is the result of a journey of more than a year that we shared with you
HERE
: you can read again the reasons that pushed us and the challenges that opened up to us. Now that this first step has been taken, what will really change for you and for us?
WHAT CHANGES FOR YOU ? YOUR CHILDREN'S FOOTWEAR BRAND HAS AN INDEPENDENT SOCIAL AND ENVIRONMENTAL GUARANTEE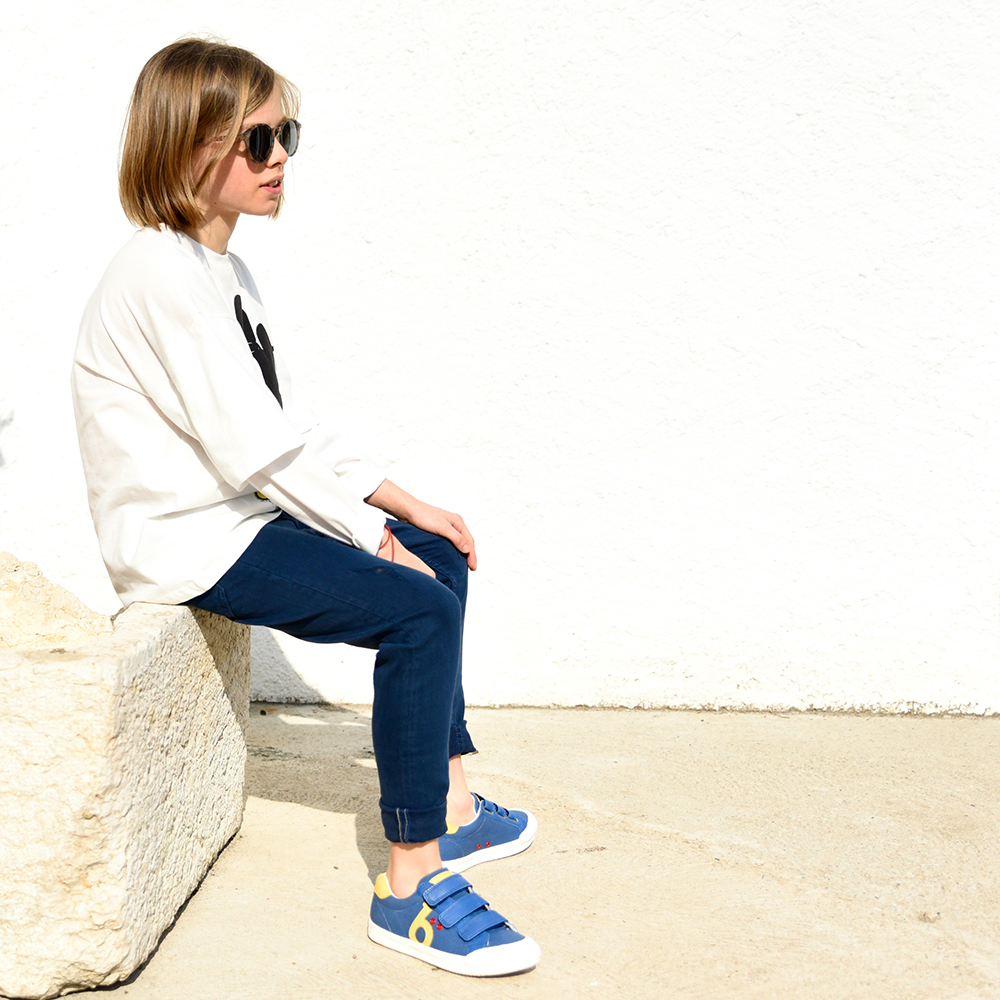 How can we see clearly what we buy today? How can we be sure that our consumption reflects our convictions? "Responsible", "committed", "sustainable"... Many brands display these qualities. We believe that these important words have lost their meaning because they are used in all sorts of ways and above all... without proof. That's why we wanted a certification. To assure our customers that someone other than Benjie has verified what we say.
So what can you be sure of when you buy Benjie?
Now that we are B-Corp certified as a Benefit Corporation, you know that an independent, recognized organization has vetted and evaluated our organization. This certification assures you of 2 important things:


- Benjie is a company that, while it seeks to make money, focuses on societal value and environmental sustainability, not on maximizing profits at all costs.
- What sets Benjie apart from others is its holistic approach to improving its impact. This includes the conservation of resources, the reduction of toxicity, the development of recycling, the protection of the climate, the guarantee of working conditions, the respect for employees and the care for customers.

Our score and approved answers are public and can be found here. Here is also a link to the BIA (Business Impact Assessment) questionnaire which allows you to evaluate yourself and then take the certification.
WHAT CHANGES FOR US? WE BECOME PART OF A COMMUNITY
Internationally, be part of a great movement!
B-Corp is first and foremost a community born out of the associative world. B-Lab, which developed the certification and testing tools, is an NGO that has been working since its creation in 2006 to link the world of business with that of social and environmental progress.
Their slogan "Use business as a force for good" is the phrase that best sums up the vision and the one we fully subscribe to. The B Corp community is a gathering of entrepreneurs and businesses that want to change the current economic model without denying the market economy. This new model consists of seeking to be profitable, but not at any cost or to the detriment of people and the environment.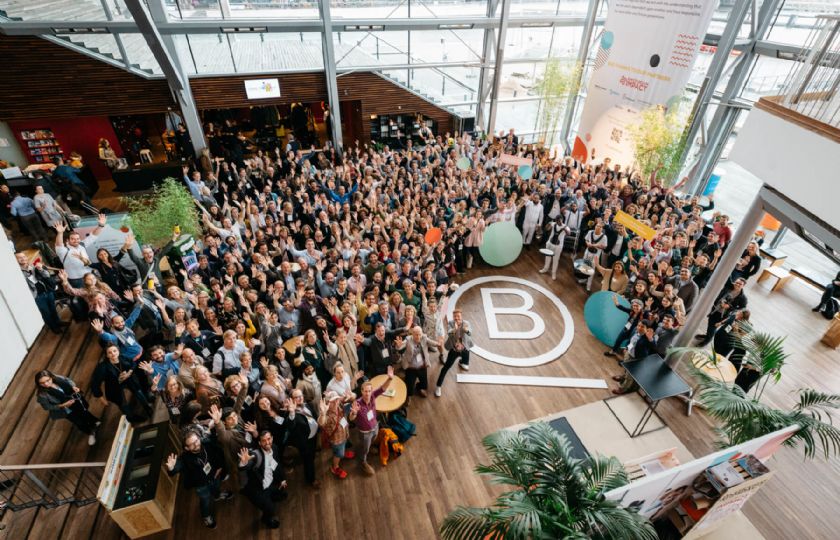 Meeting of B-Corp certified companies - photo B-Lab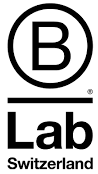 Based on this original and ambitious vision, we meet very committed and inspiring people in the community. The contacts are very enriching and broaden our perspectives. We are talking about 150 branches and 77 countries represented! Patagonia, Veja, or Sézane are for example international brands certified B Corp.

Some controversial industries cannot pass certification (oil, tobacco for example), while other potentially controversial industries (pharma, bottled water for example) are subject to even stricter requirements.
And in Switzerland
Since 2015, this organization is also represented on the European continent under the name "B Lab Europe". There are currently more than 400 Benefit Corporations in nine countries, from France to Spain, from Denmark to Italy. In Switzerland, we are more than 60 certified companies and we have a B Lab Switzerland that employs about 20 people.
WHAT IS NOT CHANGING: WE WILL HAVE TO CONTINUE TO PROGRESS!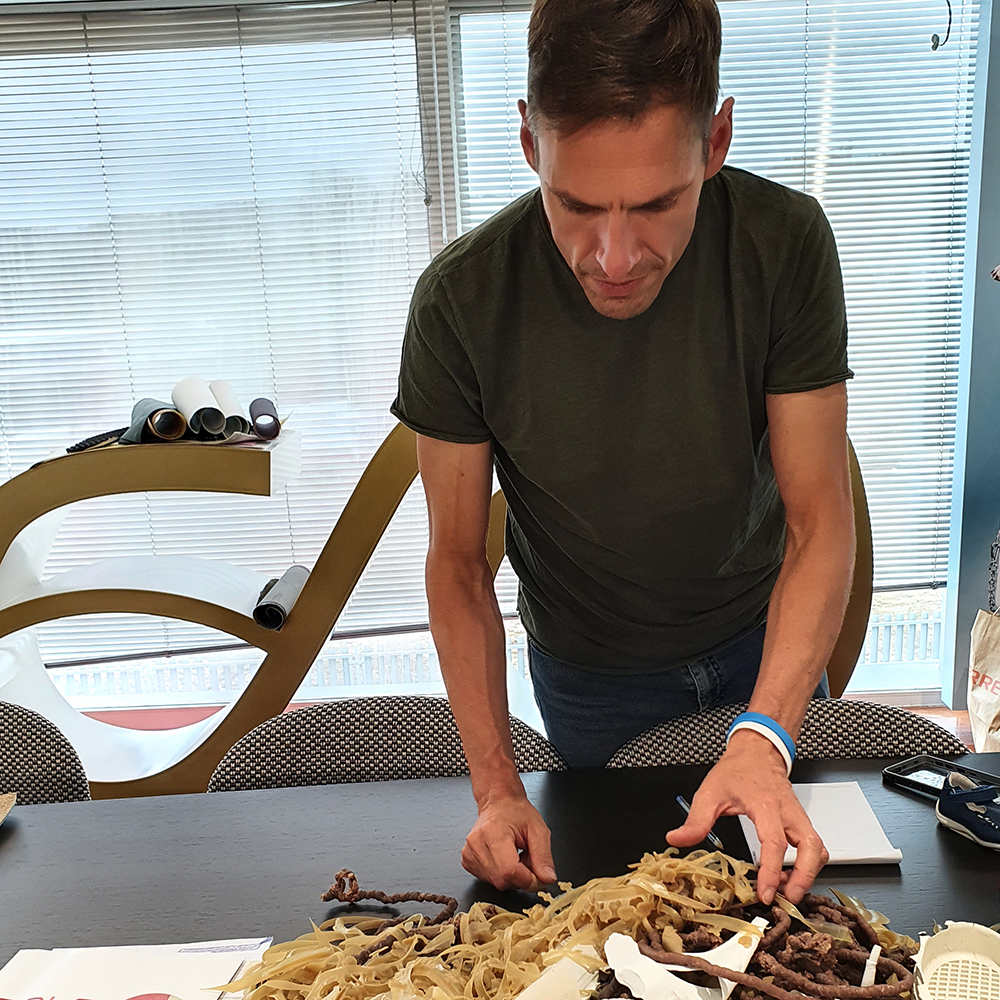 Julien with reusable rubber scraps... We have to keep inventing new solutions to avoid waste.
But those who are certified are not certified for life. Every 3 years, we will have to re-certify. The tool will be the same but improved and with additional certification points. If a company drifts during its certification, it cannot be recertified. There is also a whistleblower mechanism that allows anyone to send a B-Corp investigator to one of the certified companies in order to verify a point of contention. All these safeguards allow the certification to maintain its high standards over time... and for us to always be in a process of progress.