For the purposes of B-Corp certification, we undertook a long journey into the heart of the traceability of our shoes. That's one of the many good things about this certification: it pushes us to dig deep and get to the bottom of things...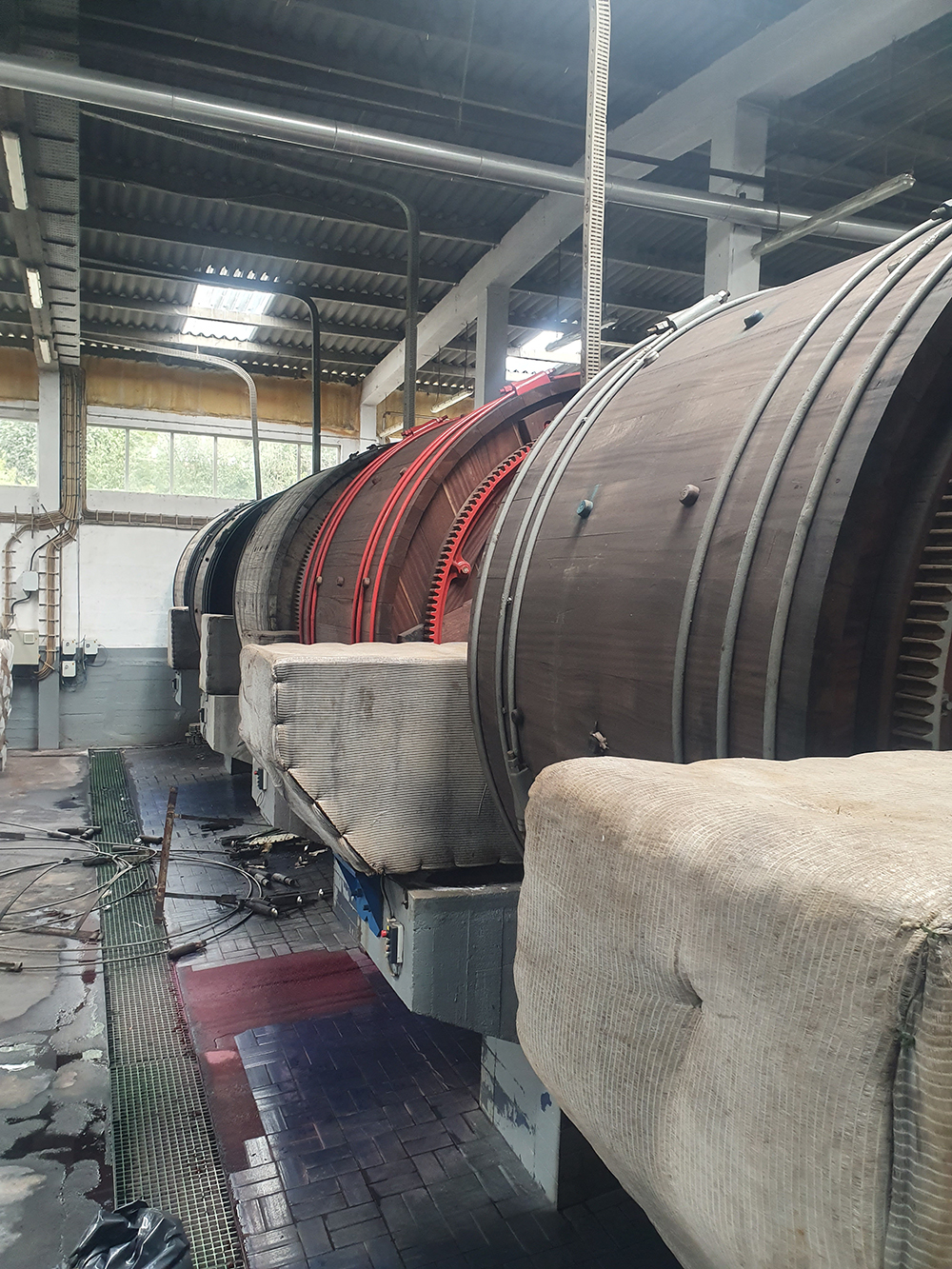 It seems almost unbelievable. How is it possible not to know exactly what you're buying to make a pair of Benjie shoes? Actually, we did know, but mainly for the "submerged" part of the iceberg: the Tier 1 supplier, i.e. the factory. But the suppliers of rank 2: transformed material, components, or even rank 3: raw material... We have to be honest, it was much more opaque. We knew the countries of origin: Spain, Portugal and Italy, and the main suppliers: tanneries for example, or sole suppliers, but we didn't have that much information. Without a voluntary and energetic action from the company, it is very easy to rely on your tier 1 supplier and not have a view on the rest. Fortunately, our value chain in Southern Europe is secure and very easy to control. This reinforced our choice to produce close to home and in the EU.

So we dug deeper. We thought we had some certainties but we learned a lot of things...
THE ORIGIN: 1 FACTORY, 22 SUPPLIERS, 3 COUNTRIES (SPAIN, ITALY, PORTUGAL), 1600KM MAXIMUM FROM GENEVA.
All the components of the Benjie come from these 3 countries (Spain, Italy, Portugal) and are on this map. On the scale of the industrialization of a pair of shoes in the world, we can largely speak of a short circuit.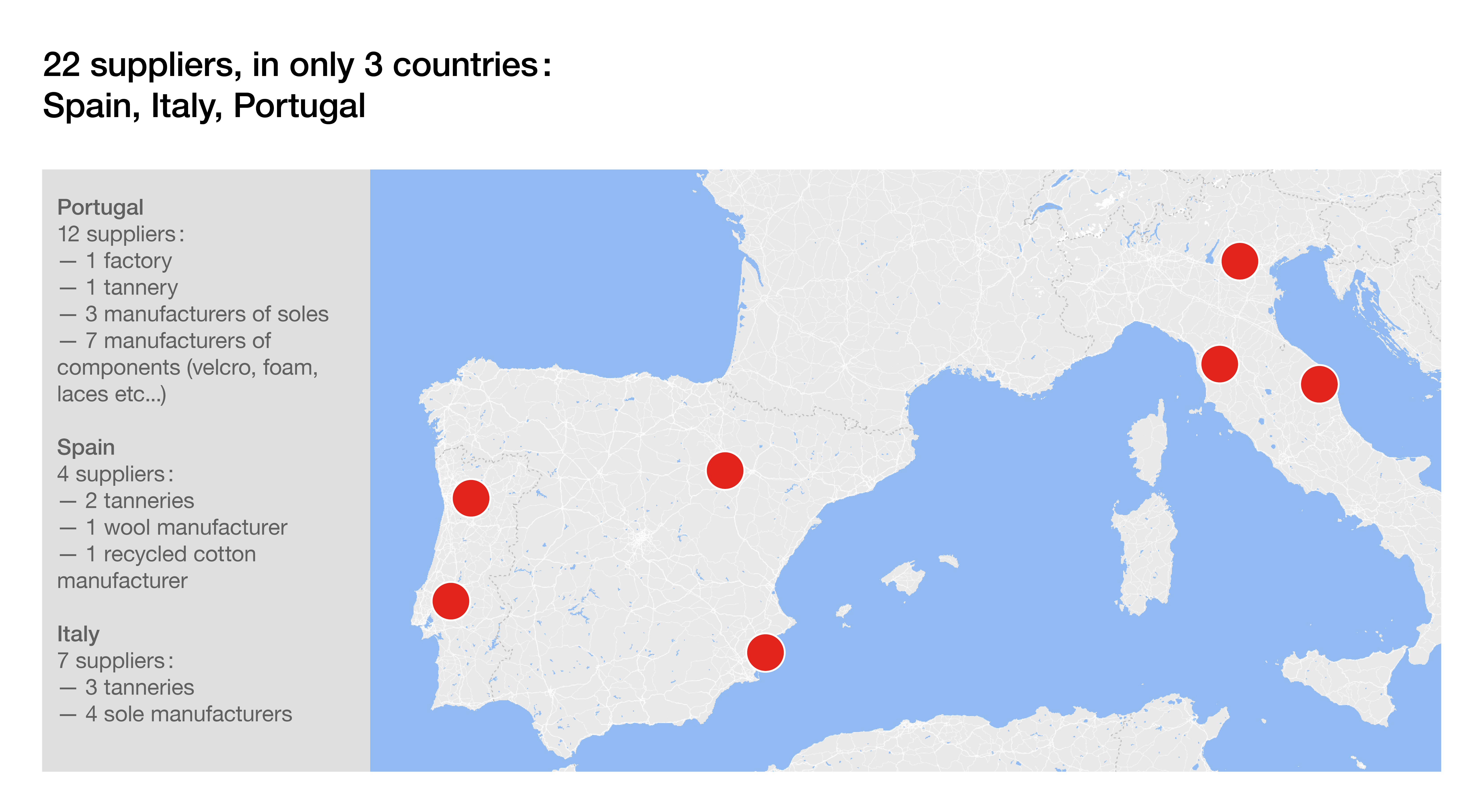 Italy in detail

This is the country of leather and soles. 3 of our 6 tanneries are Italian. 4 out of 7 of our sole suppliers are Italian. The industries are concentrated in the north of the country, in Tuscany and on the Adriatic coast.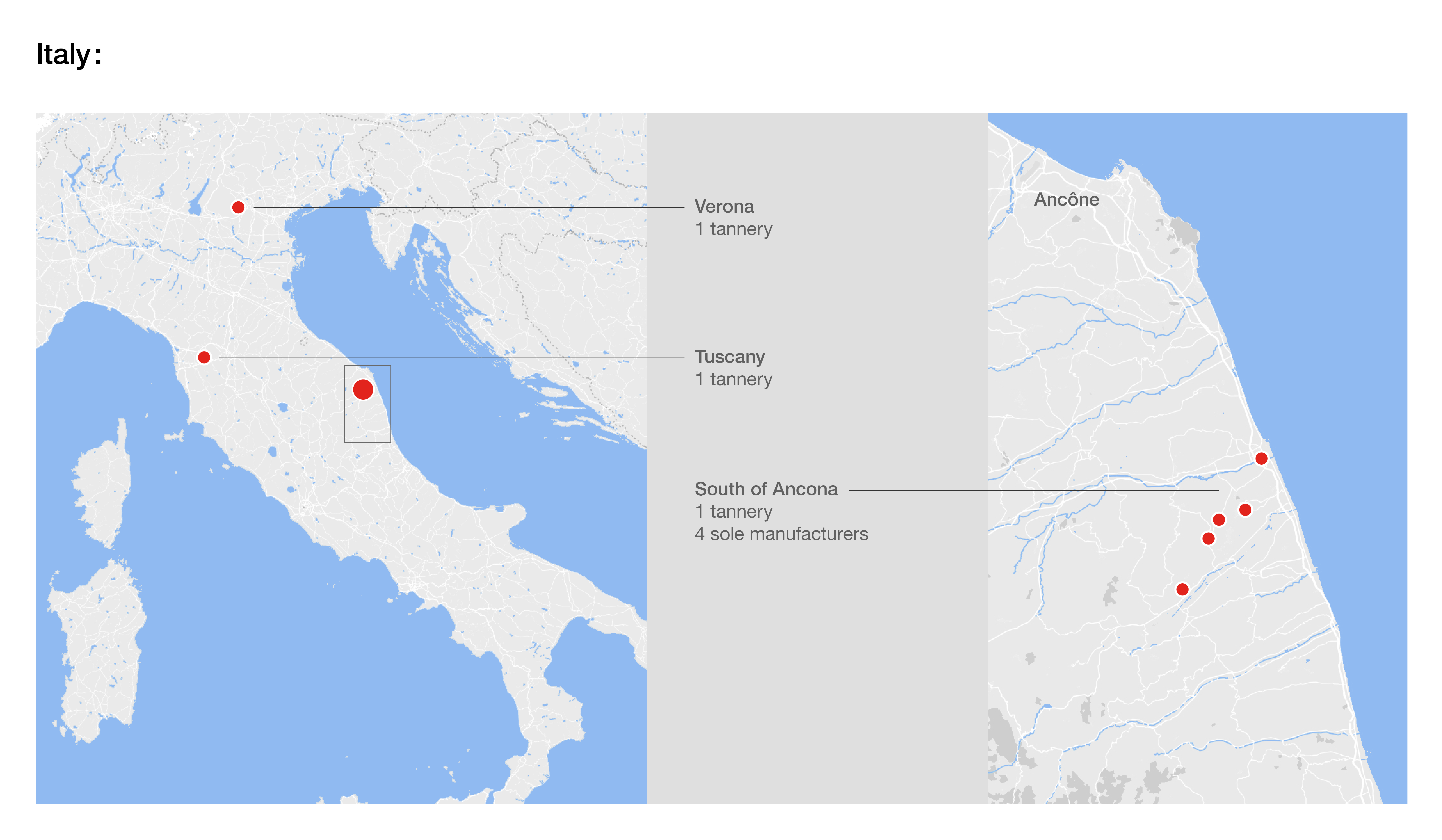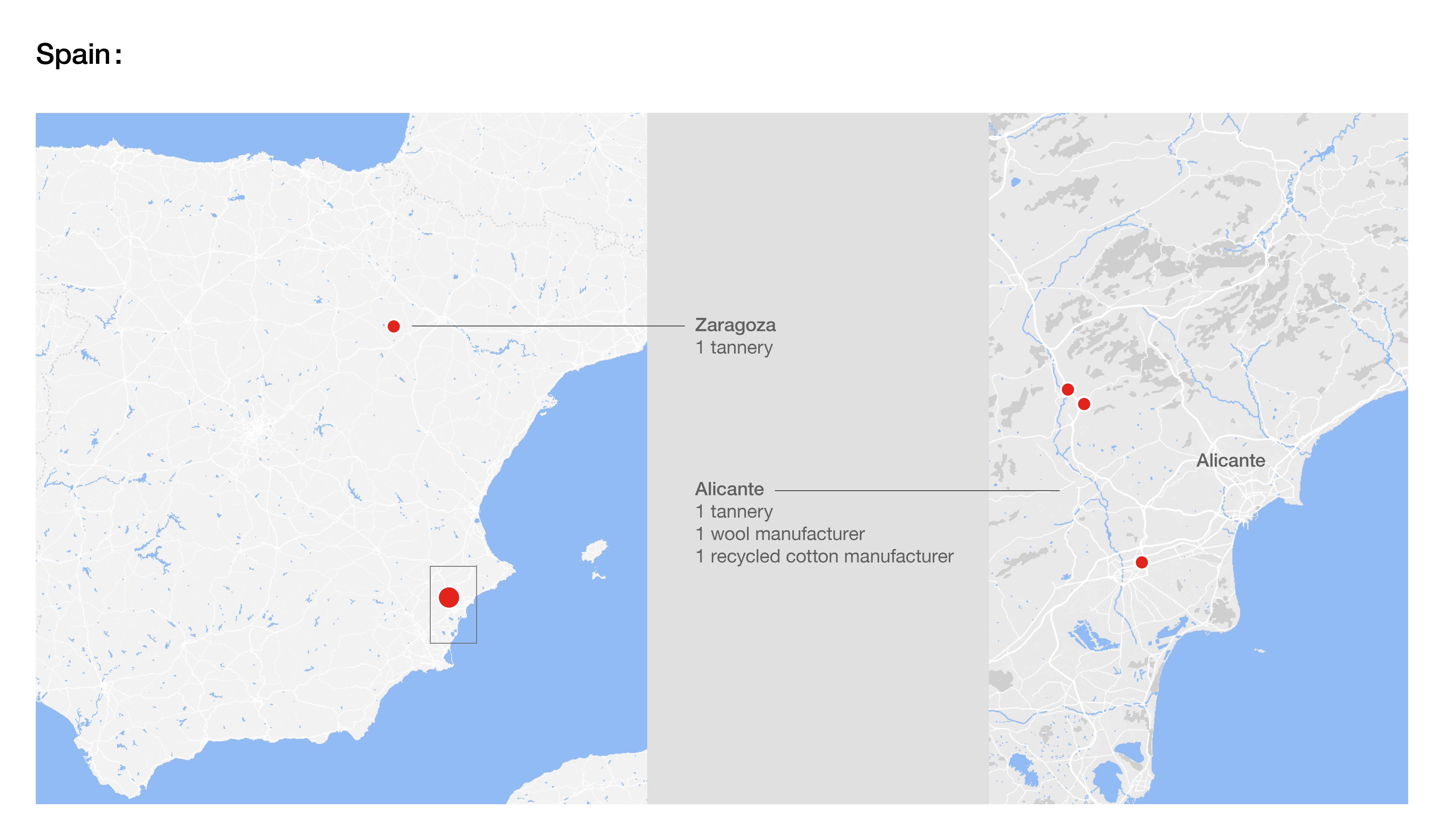 Spain in detail

Spain is a country with a long tradition in leather working with excellent quality tanneries. 2 of the 6 tanneries we work with are Spanish. Our only tannery in Spain is certified GOLD by the Leather Working Group, a level of perfection in the environmental and social specifications.
But Spain is also the country of cotton and wool. This is where we buy our recycled cotton (recycled and produced in Spain from cotton waste collected in Spain).
Portugal in detail

Finally Portugal. It is the country of assembly but also of leather and especially of components. From an industrial point of view, it is quite logical that the components (velcros, laces, foams etc...) all come from a 50km radius around the factory. We also have an excellent tannery located in the south of the country, as opposed to the North which assembles.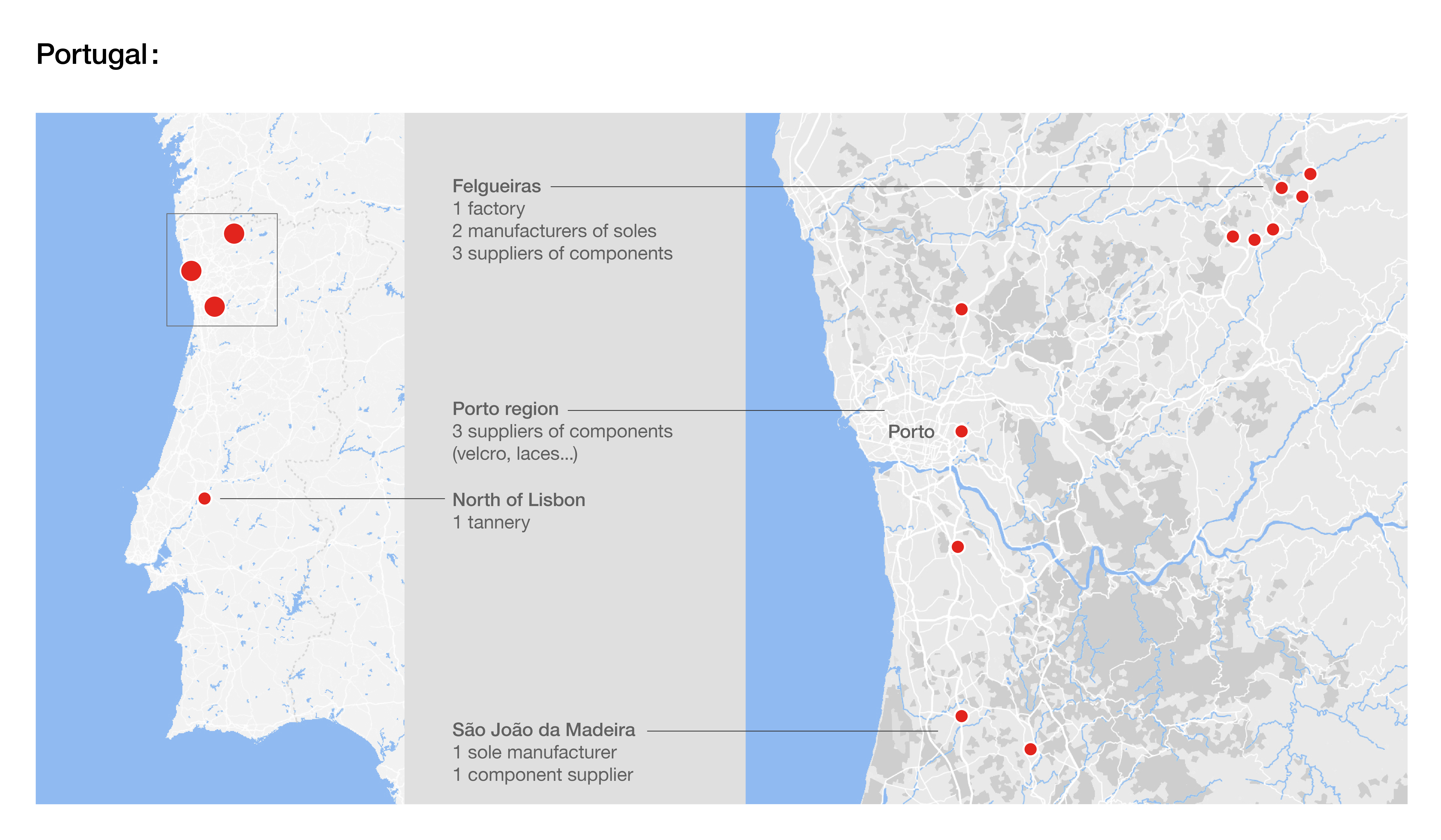 89% OF THE COMPOSITION OF A PAIR OF BENJIE BEARS A RESOURCE PROTECTION OR TOXICITY REDUCTION CERTIFICATION.
One of the major lessons of the B-Corp certification was that without certification, there is no salvation. We are handling a product whose environmental value is intangible... There is little or no difference between certified or chrome-free leather and other leather visually. It is impossible to tell the difference between one recycled material and another. The certification is therefore there to approve and make visible the assets of the materials we choose.

Here is a table that summarizes 100% of the composition of a pair of Benjie and what are the associated certifications: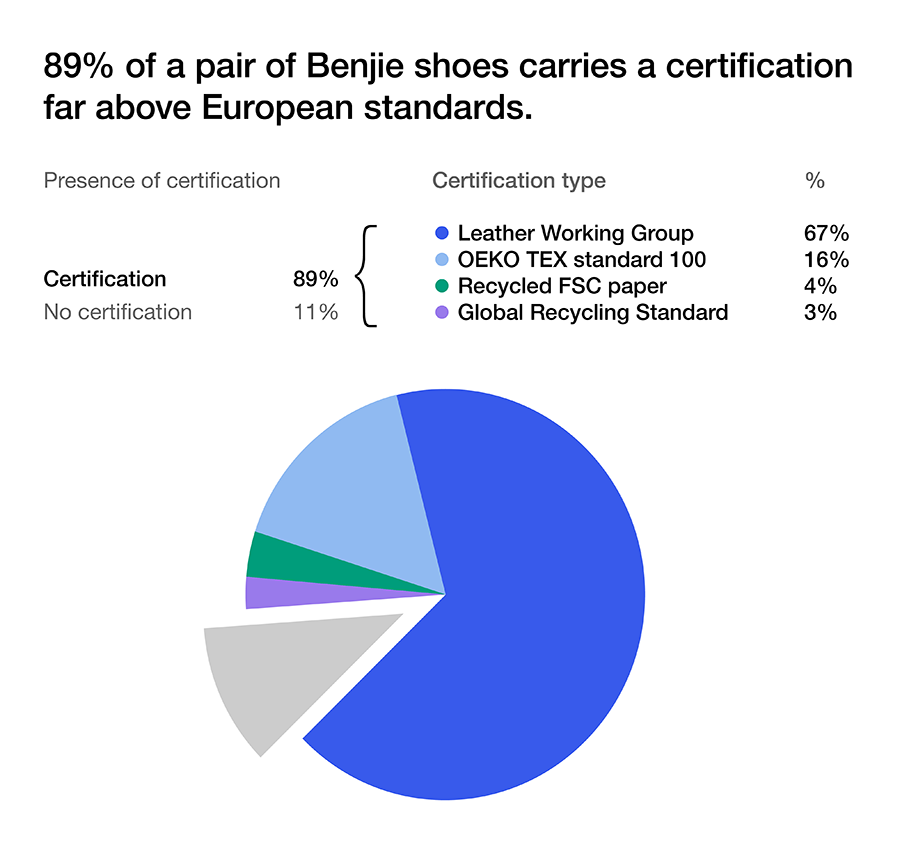 What are these labels, their advantages and their limits?
4 labels certify Benjie: Leather Working Group, Global Recycling Standard, FSC Paper, OEKO-TEX Standard 100.
Here are the details of each of them to understand what they certify and what they bring.
The Leather Working Group

This label guarantees 100% of the leather we use
The Leather Working Group is a non-profit organization responsible for the world's leading environmental certification for the leather manufacturing industry.

They were born in 2005 to address a lack of transparency in an industry that remains opaque today. They started by identifying good environmental practices in the leather industry, then drafted specifications and guidelines covering the entire value chain, from sourcing to processing. They then offer audits to manufacturers to certify them or help them improve.

In our opinion, their strengths:
- They have been around for nearly 20 years
- They audit everyone: tanneries, wholesalers, importers
- There are several levels of certification for tanneries in particular: gold, silver and bronze. This gives a clear idea of the partner we are working with. Of the six tanneries we work with, we have two bronze, three silver and one gold.
- This is the dominant Standard.

In our opinion, their weaknesses:
- They're kind of the only ones. A "competing" label would bring challenge to the industry to improve
- It's a union of manufacturers and brands originally. Even if today there are more than 1000 members, a third party specification would bring more neutrality than stakeholders, even if this is often the case: the vast majority of labels are first created by industry players
- It is very big brands that created the label in the first place... a more minimalist and independent initiative would be welcome.
- It is a good guarantee on the tanning process itself, which is already good BUT... it is never a guarantee on the origin of the animal. And as we explained here, this is one of the most important points in this industry.

Here is an example of a LWG certificate from our Spanish tannery.

So, in conclusion, it is a certification and it is better than nothing. However, the industry must (and will, for sure, as consumer confidence issues are at stake) strengthen its certification in the coming years.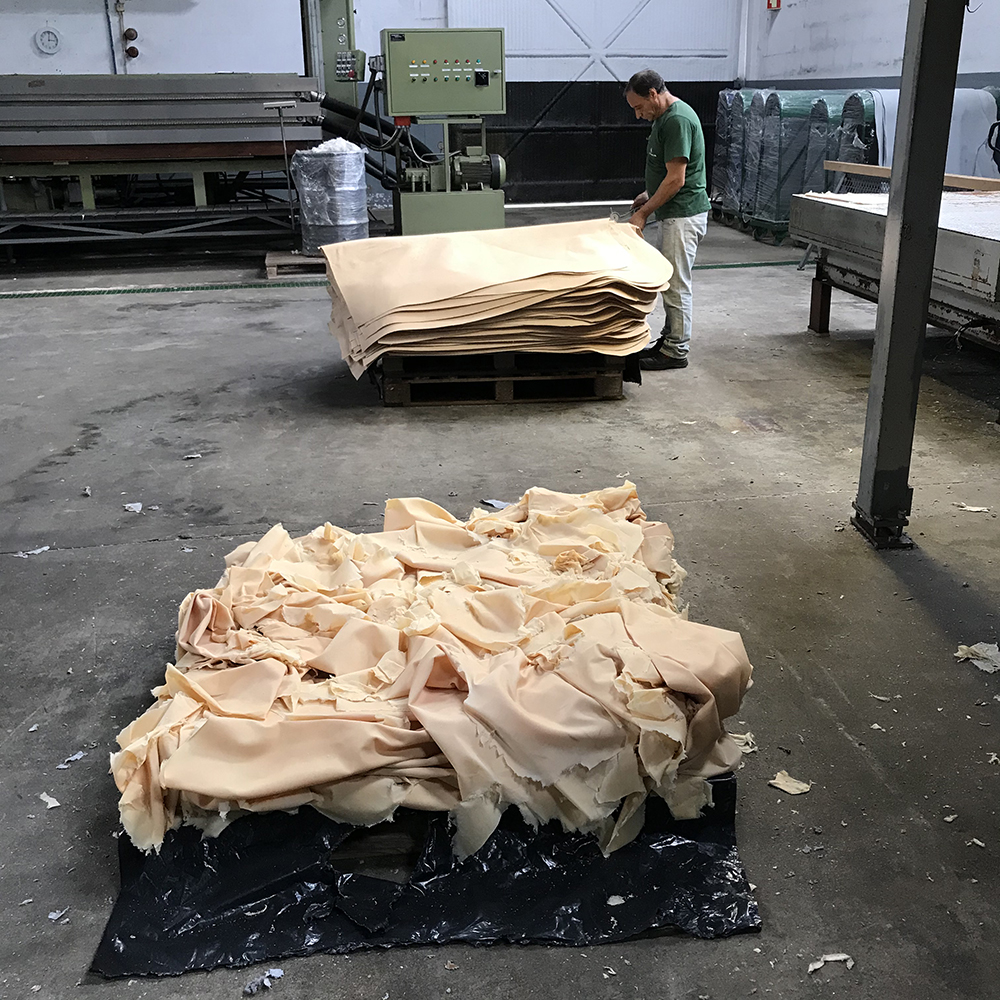 2/ OEKO-TEX Standard 100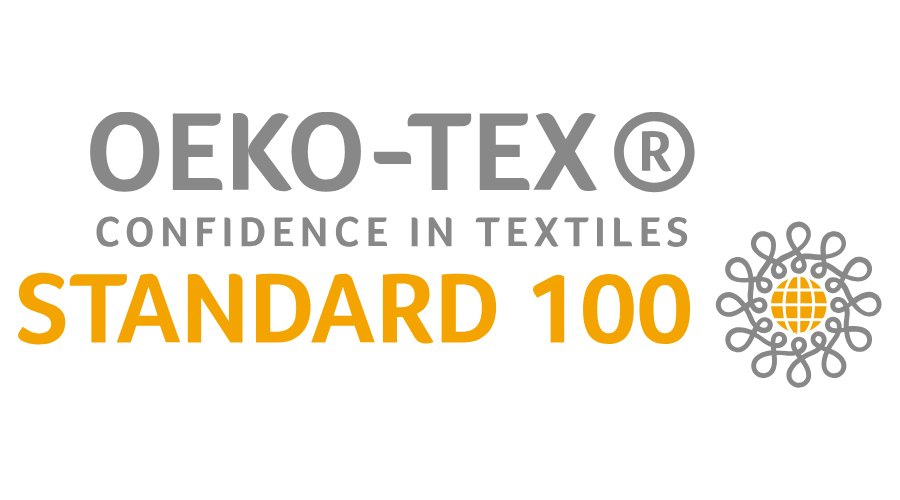 This label guarantees all our components: velcro, laces, foam, insole, synthetic part of the structure of a Benjie.

The Oeko-Tex Standard 100 is a label, also called "Confidence in Textile", which guarantees the absence of toxic products in textiles during the production process. This applies both to people (either the workers who made the product or the consumers who buy it) and also to the environment.
In the end, it ensures that the production of materials or finished products are free of toxic substances. It is an Austrian, German and Swiss label recognized worldwide. It goes beyond the European MACH standard in this area.

In our opinion, their strong points:
- They have been in existence for nearly 20 years
- the label is known all over the world
- The product is tested in the lab and the worst case scenario method is applied (if the worst case scenario passes, the product is certified), so it is very demanding and the label is credible. The test criteria and limit values go far beyond the national and international data.

In our opinion the weak points:
- Does not mean organic or eco-sourced.

Here is an example of a certificate from our foam and lace suppliers.
3/ GRS (Global Recycled Standard)
This label guarantees that the cotton we use on our summer shoes is recycled.

The label was created in 2008. Textile Exchange is the umbrella organization today. It brings together stakeholders from industry organizations, supply chain members, experts and brands. It has a wide range of certification labels for the recycling and sourcing of textiles and wool.

It is an important label when it comes to guaranteeing that the fabric comes from recycling and not from a raw material. It is also a great label to guarantee that the recycling has been done with respect for the environment and the workers who produced it.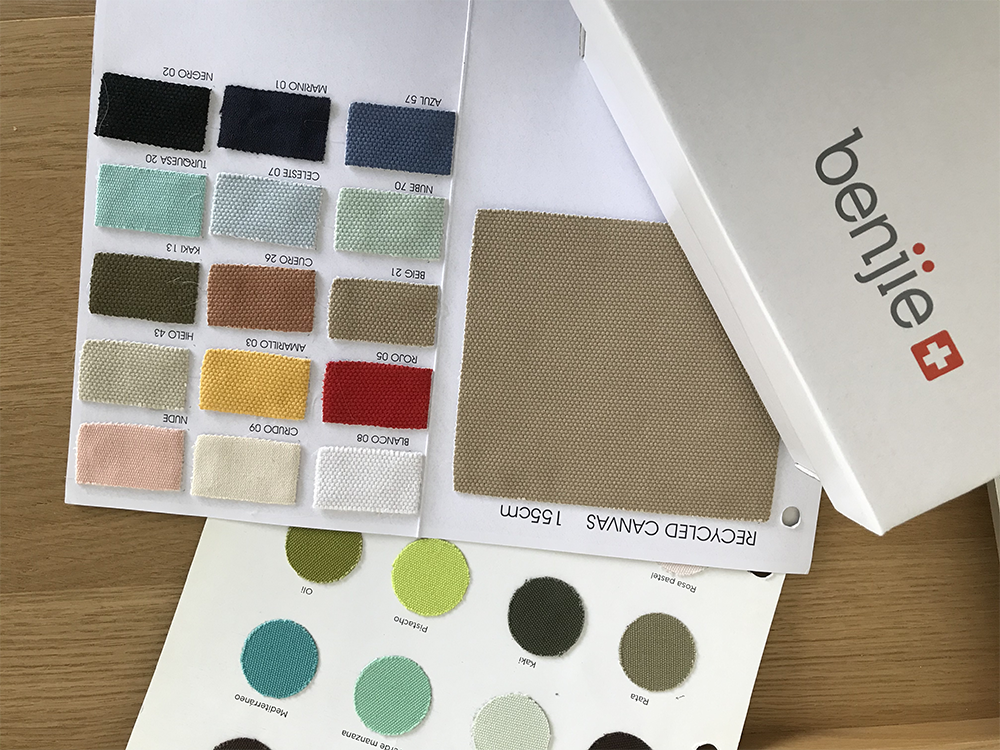 In our opinion, their strong points:
- the label is known worldwide and has a real authority on the subject
- It guarantees not only the origin of the recycling but also the environmental and social conditions.

In our opinion the weak points:
- Nothing replaces the transparency of the brand on what it says: indeed, the label aims to promote the use of recycling and can be granted to a finished product composed of at least 20% of recycled material... The devil is therefore hidden in the details. By the way, our recycled cotton is not 100% recycled: it is 70% recycled cotton and 30% Ecovero® viscose. Ecovero® is an ecological material produced from wood pulp from FSC or PEFC sustainable forests.

Here is our certificate.
4/ FSC paper
Part of the Benjie structure for children and juniors (the support under the heel) is made of cardboard. This cardboard is made of recycled paper from FSC managed forests.

The Forest Stewardship Council (FSC) is an international NGO whose mission is to promote ecological, social and economic management of forests. It is also an ecolabel that guarantees that the forest that generated a finished product (furniture, paper etc. ...) has been managed sustainably. The basic idea is to fight against deforestation.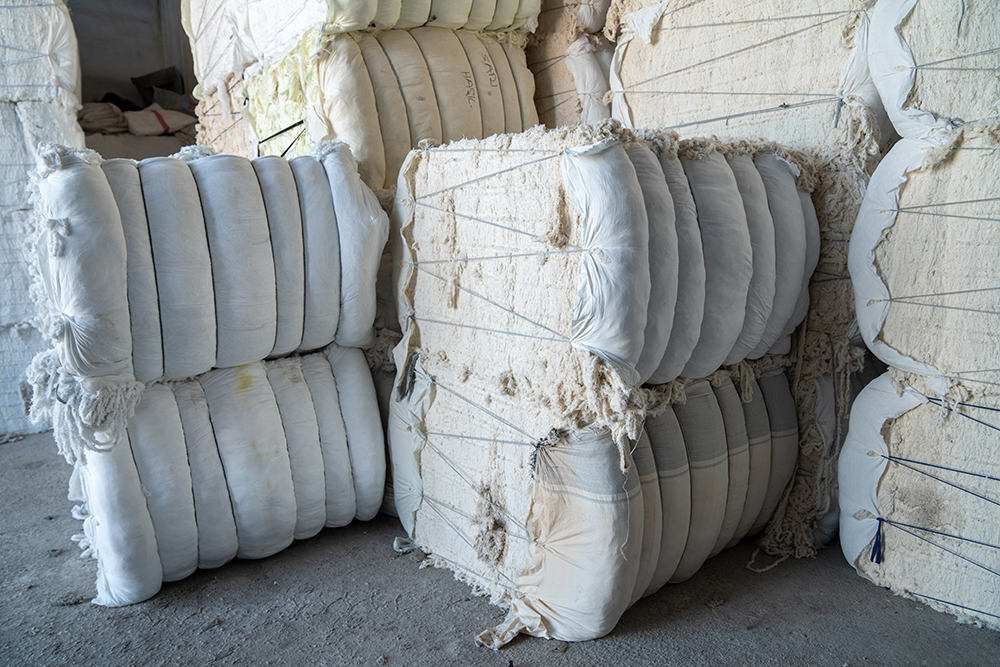 According to us, their strong points :
- the label is known worldwide and has a real authority on the subject
- The subject of deforestation is essential. It seems essential today to ensure that the raw material "wood" is as important to preserve as other natural resources in danger.

According to us the weak points:
- We cannot turn a deaf ear to the work of some NGOs who claim that the standard is not reliable enough and does not prevent deforestation. There have been scandals, particularly in the Congo in recent years.
4/ THE SOLE, OUR POINT TO WORK
The sole is the only part of the Benjie that is not certified. We buy our soles from the largest Italian and Portuguese manufacturers. They are of excellent quality, but hardly different from the industry standard for our level.

Our soles are made of Thermoplastic Rubber (TR), a synthetic rubber. It's the most common material, along with plastic, for making soles.

We have avenues for improvement, but frankly, we are facing limitations right now.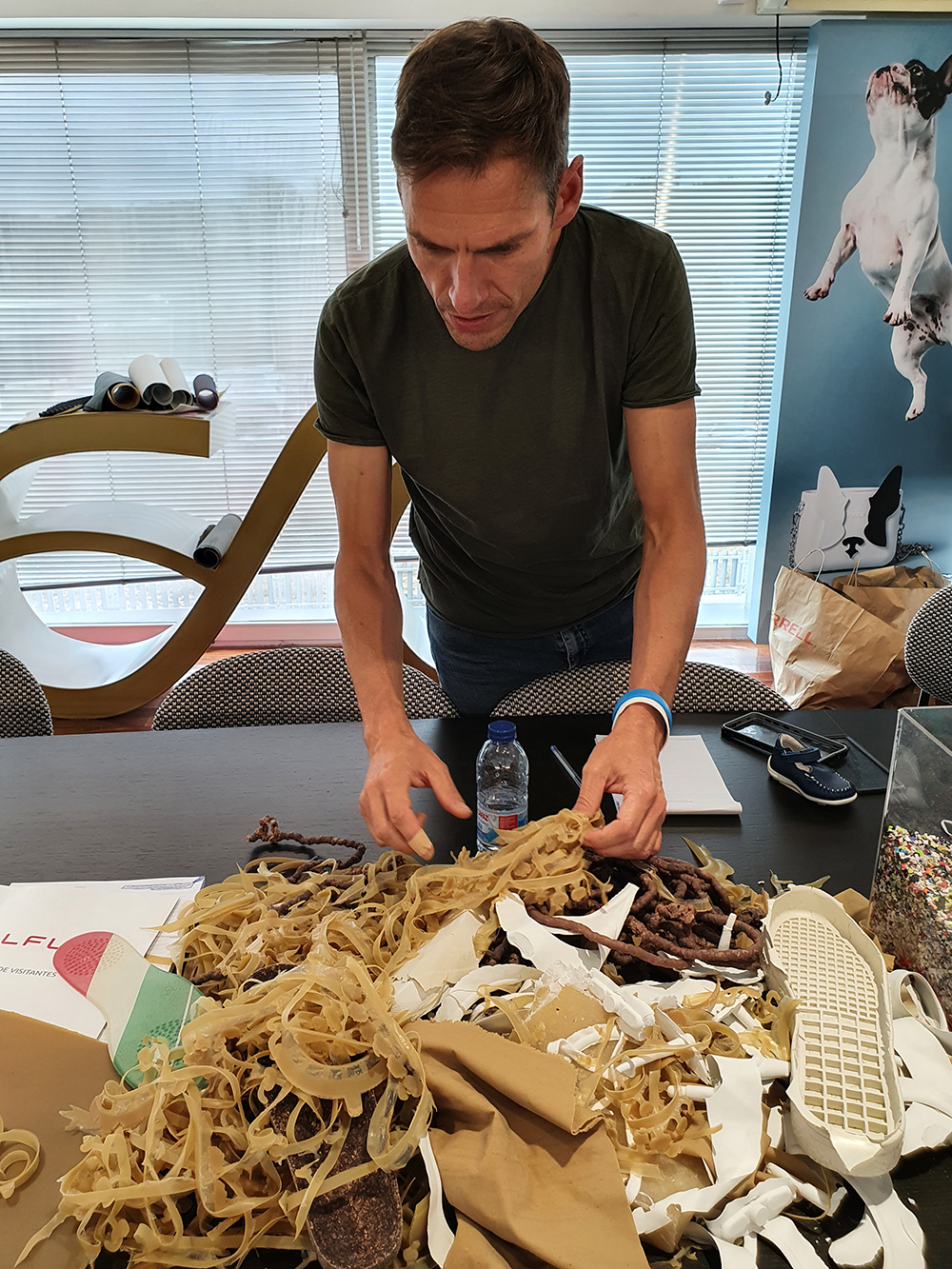 We are working on the following tracks to replace all or part of the current material by equivalents:

- There are many very interesting projects that we are following around the production waste of soles. Producing a sole is like removing a cake from the oven. There is always an excess of material on the sides of the mold. This one is planed and produces scraps". These scraps can be ground up and reused to produce a new sole.
- Another idea is to devulcanize old soles, i.e. to do in reverse the process that transformed hard plastic into synthetic rubber (vulcanization). This is called depolymerization. The resulting material has poorer physical characteristics than the original material, but can be used in the composition of a new sole, mixed with Thermo Rubber for example.
- Replace part of the mass by a "pasty" component from recycling. This is an avenue we are exploring by shredding waste materials and heating them to turn them into paste. This could be the case with any organic material, paper or synthetic, such as a pair of used Benjie's...
- Introducing natural rubber. However, the maximum usable for the sole to be manufacturable is 40% natural rubber, the rest is synthetic rubber. So, unless we can find a recycled material, this is not the path we prefer.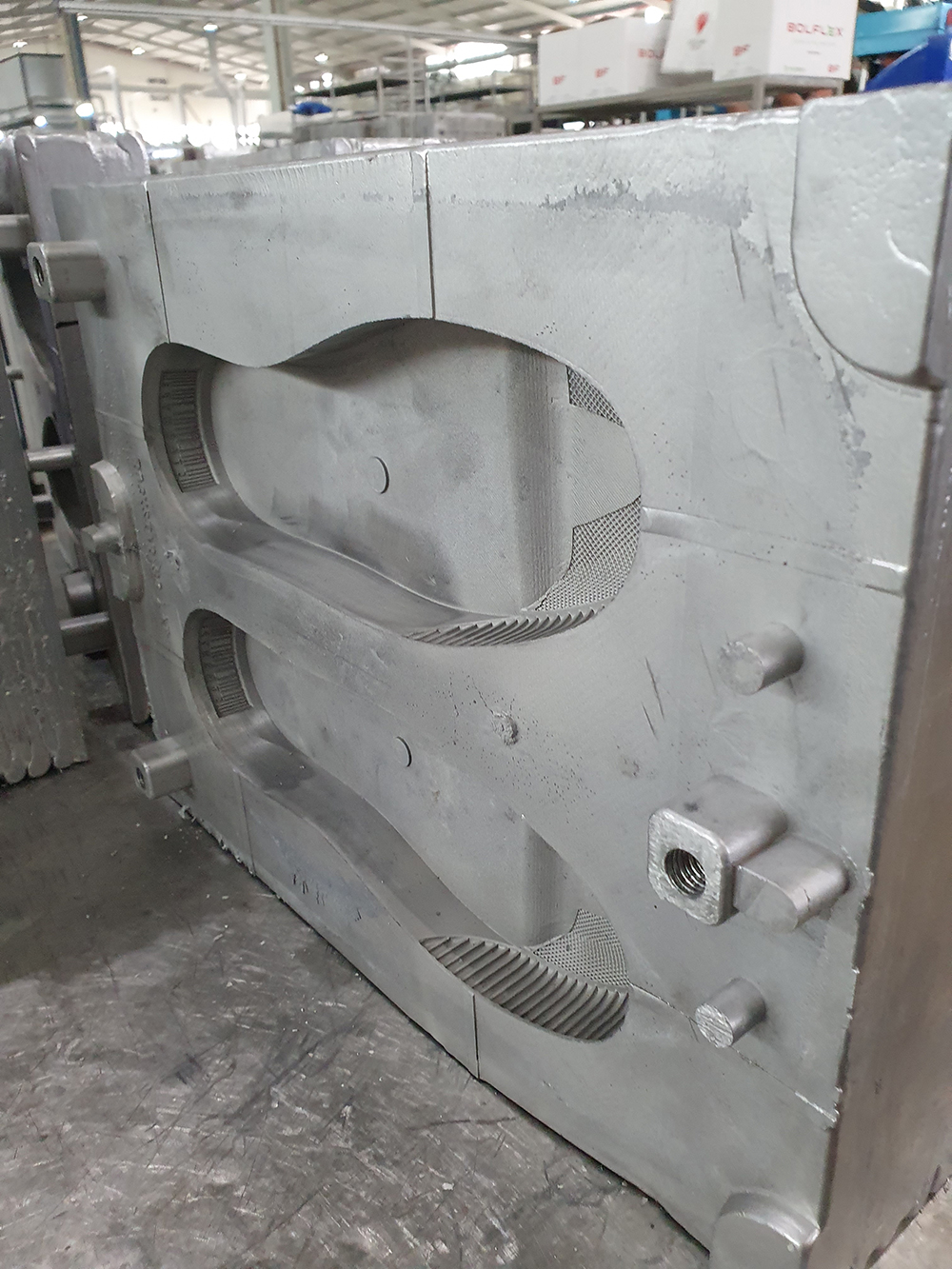 The current limitations we face are due to our size and our business model, the children's shoe...
The majority of the soles present on the market are bought in some kind of big catalogs. The sole manufacturers design a sole, create a mold and produce the soles on the fly. The designers come and choose from the catalog the sole that will dress the future shoe. The material used to do this is never a natural or recycled material because it is an ultra niche in the shoe market. They are all produced in thermo rubber and can be bought individually.

If we want to produce our soles with the materials listed above, we need to make our own molds. But :
- molds are very expensive
- We need a lot of them: we use at least 10 to 15 different soles per collection: sneakers, boots, sandals, first steps, junior shoes ......
- We make shoes for children and we need one mold per size. Contrary to adults, our size range is very wide: from 19 to 40, that is to say 22 molds against 7 molds (from 36 to 42) for a woman shoe.
- To launch a sole production, including with its own molds, it is necessary to have very important volumes

Conclusion, you need volume and means, which is generally not the prerogative of small brands.
It is for all these reasons that we are still today "obliged" to buy our insoles on catalog, but... we know in which direction to look to change that.
TO CONCLUDE, THE 5 POINTS TO REMEMBER
Here are 5 points (which are detailed above), what we must remember about our traceability:

Let's start with the positive points and, fortunately, thanks to our made in Portugal, they are many:

- The origin of our shoes:Portugal, Spain, Italy ... and that's it! We have a total of 22 suppliers, all located in only these 3 countries.

- Real certifications: 89% of the composition of a pair of Benjie's has a certification of resource preservation or toxicity reduction.

- Our leather is very good and it is certified: 100% certified by the Leather Working Group, toxicity-reducing (chrome-free) and with a traced European origin.

- Our components are also very good: European origin and 100% certified.They bring 3 direct benefits: toxicity reducers for velcro, foam, laces etc. (Oeko-Tex standard 100), preservation of resources for the structure (FSC managed paper recycling) or recycling (GRC certified cotton - Global Recycled Standard)..

- But others can be improved:
The sole, although of Italian or Portuguese origin only, is the element on which we will have toconcentrate our efforts to source a more interesting material that fits our economic model.

Here you have an exhaustive, honest and fair assessment of what you buy when you choose a pair of Benjie shoes!